Other Landmark Concept Products
At Landmark we also develop products beyond living roofs and green walls that we believe will add additional environmental benefits to you and your surroundings.
If you see something you like please contact us without obligation and we will happily discuss your requirements or provide you with a cost proposal.

Give your bees (and insects) somewhere to stay.
With bee populations in decline why not do your bit with one of our stunning bee hotels. Helps the environment and provides a great talking point!
Not all bees live in hives, this beautiful bee hotel mimics the conditions suitable for non aggressive and non swarming solitary bees which like to nest in very small spaces.
Makes an ecological enhancement to your garden or commercial site hording.
Can be made to any size or dimension
One of our Bee hotels installed at the Elephant Park development for Lendlease Ltd
LIVING TABLE
Enjoy your coffee in a more natural environment!
Don't stop with a Living roof or Green wall...now you can have something unique with our stunning handmade Living Table planted with carefully selected species
A stunning addition to any office or living room it brings nature's beauty one step closer to you
Available in a range of sizes, styles and finishes to suit your requirements. Contact us to discuss your needs.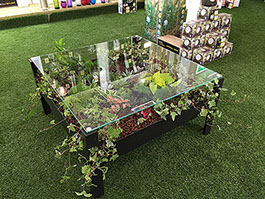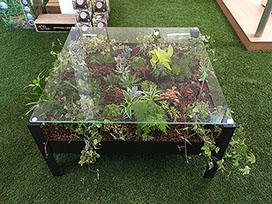 A Living Table on display at our Poole showroom.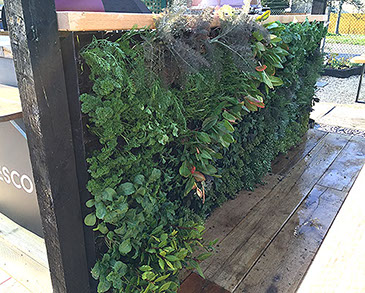 HERB WALL
For all you culinary enthusiasts Landmark has created the ultimate outdoor kitchen addition.
Herbs do not need as much soil as many other plants, so are perfect candidates for vertical gardens or living walls and in a herb wall they look stunning and create an infusion of enticing smells.
Our custom herb wall can be built against any wall and are the perfect enhancement to an outdoor kitchen providing a source of fresh and easily accessible flavours.
All our herb walls are custom made to your exact specifications or requirements. Contact us for more details.
A Landmark herb wall installed at a local garden centre
Landmark Living Roofs Ltd
Towngate House,
2-8 Parkstone Road,
Poole,
Dorset.
BH15 2PW
Phone: 01202 658090
Mobile: 07889 443070
mark (at) landmarklivingroofs.co.uk

© 2017 Landmark Living Roofs.
All Rights Reserved.
Web site by TX Dynamic Ltd