WELCOME
Landmark are one of the UK's leading living wall and green roof designers, installers and suppliers.
We can supply, install and maintain green roofs and living walls for commercial buildings, new build homes, residential projects and public spaces.
Landmark uses innovative green solutions to create green roofs, bio-diverse roof gardens and living walls. Based in Dorset, South of England Landmark Living Roofs works extensively in London and across the UK.
A Typical
Green Roof Solution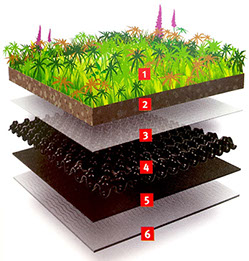 1. Plant Level
2. Substrate Layer
Perfect growing environment
water retention
good aeration.
3. Filter Fleece
Prevents fine particles washing into drainage layer
4. Drainage Board
Efficient drainage of excess water Eliminates pooling on flat roofs, stores water Provides Ventilation for roots
5. Protection & Storage Fleece
Protects roof layers and Root Barrier Stores moisture and Nutrients.
6. Root Barrier
Prevents damage from plant
Organisations We Work With

Landmark Living Roofs Ltd
Towngate House, 2-8 Parkstone Road, Poole, BH15 2PW
Phone: 01202 658090 Mobile: 07889 443070
mark @ landmarklivingroofs.co.uk
[ DESKTOP SITE ] [ FACEBOOK ]
© 2017 Landmark Living Roofs.
All Rights Reserved.
Web site by TX Dynamic Ltd