We are pleased to have completed green roof and living wall projects of all scope and size across the country and even in mainland Europe. Below is a brief selection of commercial green roof and wall installations we have been involved in.
Please contact us for more details or further examples or visit our FACEBOOK Page
LONDON UNDERGROUND
Green roof retrofit on Ruislip Gardens London Underground Tube Depot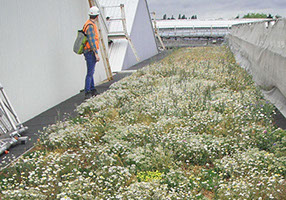 Client: London Underground Limited / GLA
Consultant: Green Roof Consultancy
Monitoring: University of East London
Status: Complete
The original concept to improve drainage in an operational area was driven by London Underground who engaged the Green Roof Consultancy to deliver the design and enlist University of East London to undertake monitoring.
Retrofitting on operational railway had to follow the rigorous assurance and safety procedures of London Underground without any interruption of service.
The Greater London Authority (GLA) through Drain London scheme also support this trial project
ROLLS ROYCE
New green roof at state of the art Rolls Royce Plant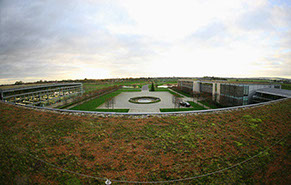 Client: BMW
Contractor: Balfour Beatty
Roof Area: Approx. 2,500 m²
Status: Complete
Scheme was to extend the manufacturing area to cope with the increased demand.
This was particularly challenging as we had to install the green roof substrate by way of a silo tanker. This is the most efficient way of blowing substrate onto the roof and is commonly used in Germany in lieu of a crane. Once the green roof build up was completed, we Hydroseeded the roof using a purpose blended mix of seeds, plant cuttings and mulch.
This is another prestige example of the commercial projects Landmark undertakes.
PRICE WATERHOUSE COOPERS
Regeneration of existing green roof area devoid of vegetation at London Offices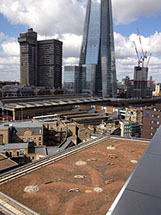 Client: PriceWaterhouse Coopers
Address: 7 More, London
Status: Ongoing Maintenance
We were asked to submit our cost proposal to revive the existing green roof areas installed some 5 years ago. Having won the contract, we proposed the introduction of additional substrate, supplementing the planting with the introduction of plug plants and bulbs, as well as the introduction of habitat incidentals including bee hotels and log piles to encourage the insects.
Also in the scheme we removed an area of green roof over the entrance canopy and substituted it with cobble stones, as the aspect meant there was insufficient light for the vegetation to survive.
we still maintain these roofs annually and keep enhancing them with seeds and plants to improve the roofs year on year.
ELSEVIER PLC
New Living Wall Installation at London HQ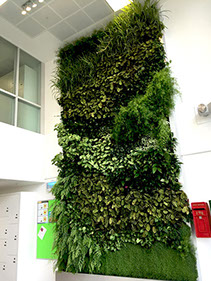 Client: Elsevier PLC
Wall Area: Approx. 25 m²
Address: London Wall
Status: Complete with ongoing maintenance
We were commissioned by The Lancet publishers to install a 7 metre high interior living wall in their offices.
We used a modular panel system, fixed onto a structural framework against the existing stud wall. The next task was to incorporate an irrigation system to ensure even watering of the vegetation. Our horticultural expert designed the planting scheme to incorporate 2,000 houseplants of different varieties. This wall has proven to be the highlight of a multi million pound refurbishment of the offices and is a focal point for all the staff to enjoy in their chill out zone.
We have also won the maintenance contract for the wall and it is looking more stunning each visit.